Mr. Adam Dalgleish
Orthopaedic Surgeon FRACS ORTHO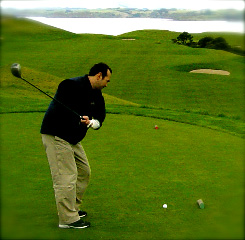 I am a New Zealand trained Orthopaedic Surgeon.
My Orthopaedic practice is dedicated to Surgery of the Shoulder and Knee.
I have completed sub-specialty fellowship training in Shoulder and Knee Surgery. I strongly believe patients benefit from subspecialty management in the broad field of Orthopaedic Surgery.
I attended Saint Michaels primary school in Auckland and Saint Bernards Intermediate in Wellington.
My Secondary schooling was at Sacred Heart College in Auckland.

I attended The University of Auckland Medical School completing my Bachelor of Medicine and Surgery (MBChB) in 1991.
I then completed the New Zealand Orthopaedic Training Program and was admitted to the Royal Australasian College of Surgeons in 2000.
In addition to this I added to my New Zealand Orthopaedic Surgery Training with overseas Sub-speciality training - completing Fellowships in Shoulder and Knee Surgery.
I returned to New Zealand in 2004. I held a Public hospital post at Counties Manukau District Health Board until 2017. I then moved to Auckland City Hospital where I currently work. I also work in Private Practice.
My current practice is dedicated to Surgery of the Shoulder and Knee. I firmly believe patients benefit greatly from Surgical Management by a Surgeon who is sub-specialty trained.
My practice continues to evolve with the current literature and my surgical indications and techniques change with it.
I regularly attend and contribute at Local and International meetings.
I am also responsible as part of my public commitment to the training of New Zealand Orthopaedic Training Scheme Registrars. On occasions fellow NZ surgeons visit to learn surgical techniques.
To know more about Mr. Adam Dalgleish click the following links.